Sony baru saja umumkan controller baru untuk PS5 bernama "Dualsense". Sejauh ini resepsi dari fans tergolong positif, tapi beberapa merasa ada yang mengganjal dengan desain baru ini termasuk saya pribadi. Semua orang miliki opini masing-masing dan apabila controller default yang dipamerkan Sony tidak begitu melirik hatimu, mungkin kombinasi warna lain akan lebih cocok.
Tak lama setelah diumumkan, netizen telah berbagi kombinasi berbagai warna dari Dualsense. Semua gambar di bawah hanyalah mock-up semata tetapi mungkin Sony dapat mengambil inspirasi gambar tersebut untuk menambah varian Dualsense saat PS5 rilis nanti.
https://twitter.com/RobertoSAGuedes/status/1247627406371938309?ref_src=twsrc%5Etfw%7Ctwcamp%5Etweetembed%7Ctwterm%5E1247627406371938309&ref_url=https%3A%2F%2Fmp1st.com%2Fnews%2Fthe-ps5-controller-dualsense-looks-even-more-great-in-other-colors
Did a quick, lazy mock-up of a color scheme I'd love to get that PS5 controller in: pic.twitter.com/wHVpRvfWWP

— Drue Dannible (@HGemsReviews) April 7, 2020
OH GOD!!! The #PS5 controller colour scheme I want ?#Dualsense pic.twitter.com/pW8rDcVrLh

— Super Tuber Eddie ? Jedi Fallen Order PS5 (@SuperTuberEddie) April 7, 2020
different color scheme mockups#dualsense #playstation5 pic.twitter.com/S82LAVsqXH

— fleshmonk (@thefleshmonk) April 7, 2020
The buttons/sticks having the same color as the surface they're on just looks so off to me… pic.twitter.com/KowU1KYknv

— Asph ???? (@Aspharon) April 7, 2020
Here's another combination for #DualSense pic.twitter.com/BFS7mnpH5V

— Parrigatooooo (@isaparrot) April 7, 2020
Made a few trash mockups in Photoshop of some colors with DualSense just outta curiosity pic.twitter.com/V067kdMXuO

— Big Boss (@LordBalvin) April 7, 2020
So in love with the look of the #Dualsense. Decided to make some quick mockups based on some of my favorite PlayStation franchises! #PS5 pic.twitter.com/2LJrkxtxlV

— ?LIVE Dorm! (@DormStreams) April 7, 2020
The PS5 DualSense Controller in the original white. I've added some colored mockups in case you need to visualize possible custom options. I'm really excited by these. Thank you @PlayStation ? pic.twitter.com/Blwd5SIqCz

— Brian English ? (@PS5Trophies_) April 7, 2020
some more just for fun

including those color schemes that are always on sale that no one wants pic.twitter.com/2lnu1u2Eo8

— fleshmonk (@thefleshmonk) April 7, 2020
get in the controller shinji pic.twitter.com/ibiNVrfUt0

— fleshmonk (@thefleshmonk) April 7, 2020
Okay, but what if it was a banana? pic.twitter.com/cxBPxz5o52

— Blaise Imiolczyk ???? (@BlaiseGamedev) April 7, 2020
Apabila kamu penggemar Nintendo seperti saya dan ingin melampiaskannya saat membeli PS5 nanti, mungkin controller satu ini cocok. Tetapi tentu saja desain ini hanya sekedar mimpi semata.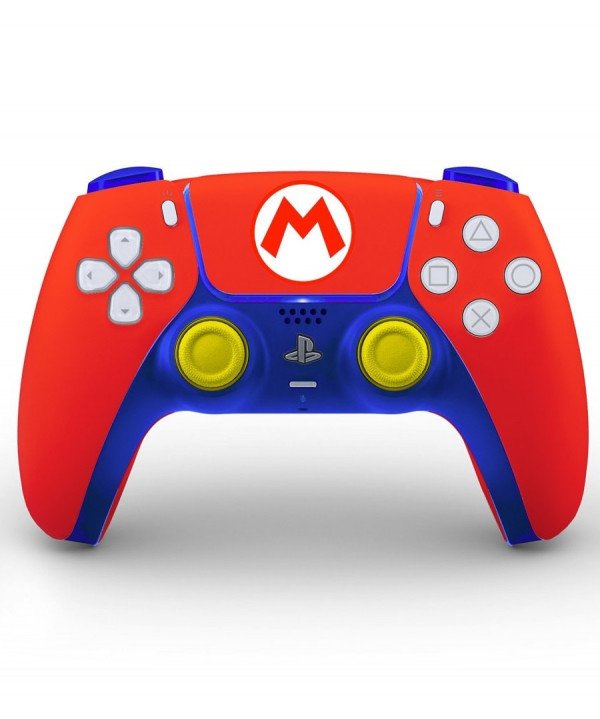 ---
Baca pula informasi lain terkait PS5 beserta dengan kabar-kabar menarik lainnya seputar dunia video game dari saya, Muhammad Maulana.