April, full of game with vehicle 
Berlangganan PlayStation Plus tidak hanya memberikan keuntungan berupa akses penyimpanan online (cloud). Setiap bulan, pelanggan PS Plus juga akan mendapatkan game gratis. Daftar game gratis tersebut memang selalu diumumkan menjelang akhir bulan. Dan inilah daftar game gratis PS Plus bulan April 2018.
Mad Max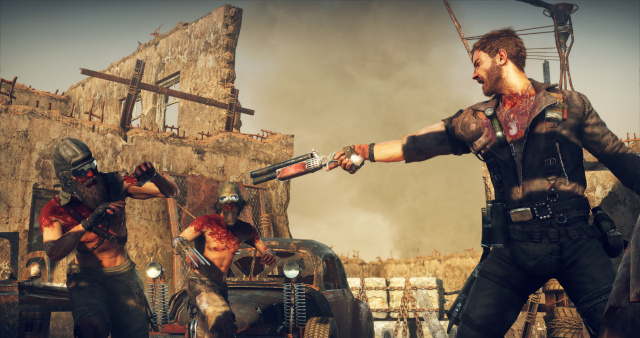 Game bertema action-adventure yang diadaptasi dari film berjudul sama ini dapat diunduh secara gratis untuk PS4. Bertempat di gurun bukan berarti game ini membosankan. Bagi yang sudah menonton filmnya pasti tau bagaimana bertahan hidup di 'dunia' itu bisa jadi sangat menantang, dan game ini memberikan yang sama dengan versi filmnya. Ada adu balap, mobil-mobil khas bandit, dan juga penjelajahan di gurun dengan senjata yang tak kalah gahar.
Untuk gameplay dari game ini kamu bisa melihatnya di bawah ini.
PS Plus tak hanya menggratiskan satu judul game saja. Sebelum Maret 2019, game-game yang digratiskan juga dituju untuk konsol PS3 dan PS Vita. Setelah Maret 2019 barulah game gratis PS Plus hanya dituju untuk konsol PS4 saja. Beberapa waktu yang lalu Gamebrot pernah membahasnya terkait hal tersebut.
Berikut ini line up game gratis PS Plus bulan April lainnya:
Track Mania Turbo (PS4)
In Space We Brawl (PS3)
Toy Home (PS3)
99 Vidas (PS Vita)
Q*Bert Rebooted (PS Vita) 
Biasanya region Eropa dan Asia memiliki beberapa perbedaan judul game. Bulan-bulan sebelumnya pun demikian. Namun hingga berita ini ditulis daftar game PS Plus untuk region Asia belum juga keluar. Untuk hal itu, Gamebrott akan terus meng-update hingga judul-judul game gratis PS Plus region Asia keluar.