Game "simulator" hewan telah menjadi lelucon sejak suksesnya Goat Simulator, tetapi berbeda dengan game hewan lainnya, The Untitled Goose Game terlihat seperti game kompeten. Penuh dengan ide, ciri khas unik serta puzzle yang memang menarik, bisa dibilang bahwa game soang ini lebih dari sekedar game lelucon.
Dirilis pada bulan September 2019 lalu untuk Switch dan PC, game berhasil menarik perhatian banyak netizen, capai penjualan yang baik dan juga menangkan beberapa penghargaan. Tetapi tak diekspektasi sama sekali untuk melihat game semacam ini untuk menangkan "Game of The Year", namun itulah yang terjadi pada penghargaan DICE tahun ini.
Game buatan dari House House tersebut berhasil meraih penghargaan tertinggi pada acara ini mengalahkan Death Stranding, Outer Wilds, Disco Elysium dan Control. Bicara soal Control, game dari Remedy tersebut mungkin tak menangkan Game of The Year, tetapi mendominasi acara ini dengan memenangkan 4 penghargaan.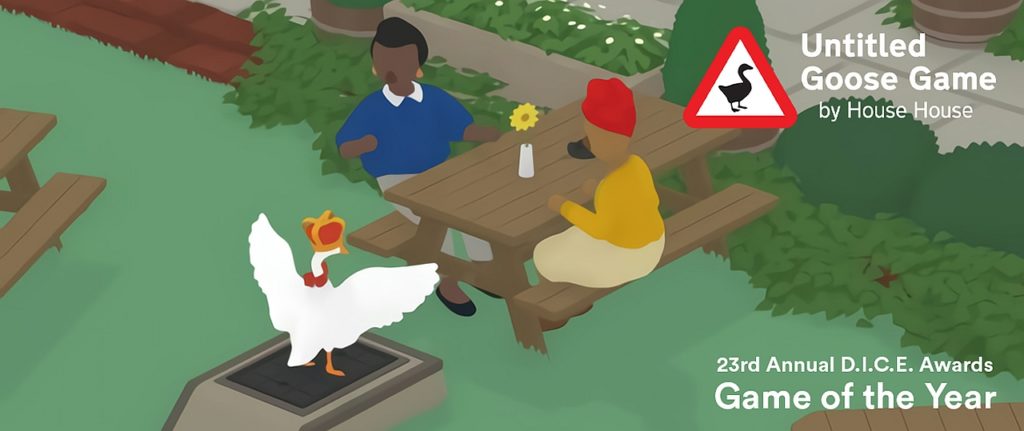 Berikut seluruh pemenang dari DICE Awards 2020:
Outstanding Achievement in Animation: Luigi's Mansion
Outstanding Achievement in Art Direction: Control
Outstanding Achievement in Character: Untitled Goose Game – The Goose
Outstanding Achievement in Original Music Composition: Control
Outstanding Achievement in Audio Design: Death Stranding
Outstanding Achievement in Story: Disco Elysium
Outstanding Technical Achievement: Death Stranding
Action Game of the Year: Control
Adventure Game of the Year: Star Wars: Jedi Fallen Order
Family Game of the Year: Super Mario Maker 2
Fighting Game of the Year: Mortal Kombat XI
Racing Game of the Year: Mario Kart Tour
Role-Playing Game of the Year: The Outer Worlds
Sports Game of the Year: FIFA 20
Strategy/Simulation Game of the Year: Fire Emblem: Three Houses
Immersive Reality Technical Achievement: Blood & Truth
Immersive Reality Game of the Year: Pistol Whip
Outstanding Achievement for an Independent Game: Untitled Goose Game
Portable Game of the Year: Sayonara Wild Hearts
Online Game of the Year: Apex Legends
Outstanding Achievement in Game Design: Baba is You
Outstanding Achievement in Game Direction: Control
A.I.A.S. Hall of Fame Award: Connie Booth
Game of the Year: Untitled Goose Game
Tak ada yang menyangka apabila The Untitled Goose Game akan menang, atau bisa saja si soang mencuri penghargaan tersebut di balik layar, kita tidak akan pernah tahu misteri dibalik semua itu.
---
Baca pula informasi lain terkait The Untitled Goose Game beserta dengan kabar-kabar menarik lainnya seputar dunia video game dari saya, Muhammad Maulana.