Setelah sebelumnya diberitakan banyak sekali rumor yang beredar mengenai Call of Duty selanjutnya, pada hari ini terungkap sudah apa Call of Duty yang akan mengisi tahun 2016 ini. Sama persis seperti yang dirumorkan, Call of Duty 2016 berjudul Call of Duty: Infinite Warfare. Kabar ini diperkuat dengan bocornya trailer resmi game ini di berbagai website streaming.
Bocornya trailer Call of Duty: Infinite Warfare membuat Activision dan Infinity Ward merilis trailer resminya lebih awal yang sebelumnya mereka sudah memberikan beberapa hint bahwa trailer resminya akan dirilis jam 23:00 WIB nanti.  Trailer berdurasi 3 menit ini menunjukkan kelengkapan seluruh permainan Call of Duty: Infinite Warfare. Kamu bisa menonton trailernya di bawah.
Dari video ini dapat kita ketahui tema Call of Duty selanjutnya yang mengusung tema semi-futuristik dengan adegan perang di luar angkasa. Berbagai kapal perang luar angkasa juga ditampilkan di sini. Tidak hanya itu saja, dalam video tersebut terdapat adegan robot yang mirip seperti robot-robot di Call of Duty Black Ops III. Trailer ini juga menampilkan kapan Call of Duty: Infinite Warfare dirilis, yaitu pada tanggal 4 November 2016.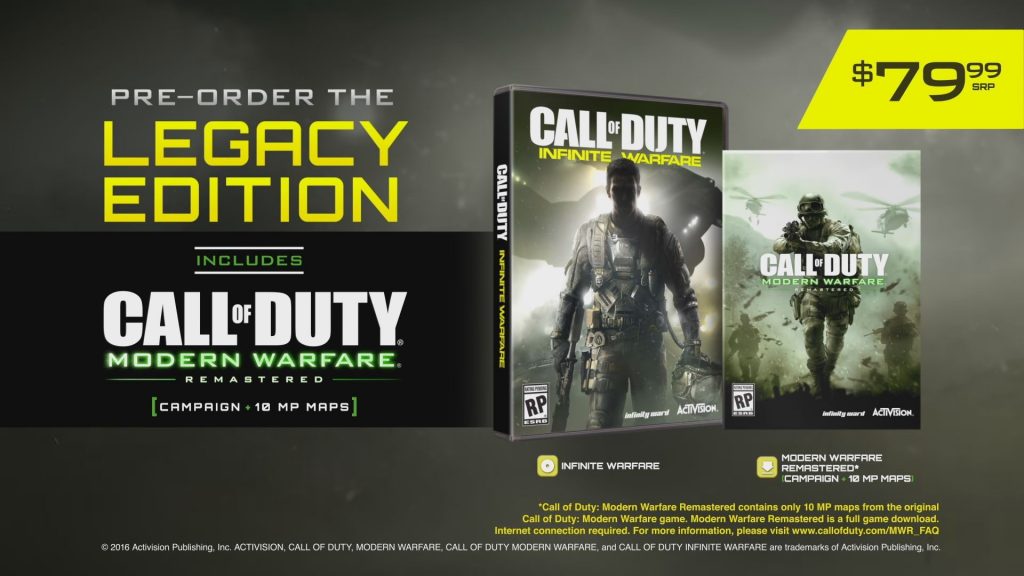 Selain gameplay, mereka juga mengumumkan bahwa, Call of Duty: Infinite Warfare juga datang dengan versi bundle Legacy Edition yang berisi Remaster dari Call of Duty: Modern Warfare yang dibanderol seharga $79.99 atau sekitar Rp 1.054.000 (kurs 13.175).