Spin-off dari serial Yakuza yang berjudul Judge Eyes memang sudah rilis pada bulan Desember 2018 yang lalu khusus untuk versi Jepang saja. Namun akhirnya, SEGA baru-baru ini mengumumkan bahwa perilisan versi barat atau versi Inggris nya yang berjudul Judgment (sebelumnya bernama Project Judge) akan hadir pada 25 Juni 2019 mendatang.
Kamu yang berencana untuk melakukan pre-order game ini dalam bentuk digital akan mendapatkan kesempatan untuk mengakses gamenya lebih awal mulai tanggal 21 Juni. Sedangkan perilisan versi fisiknya akan menghadirkan dual cover serta sebuah stiker seperti yang bisa kamu lihat di bawah ini.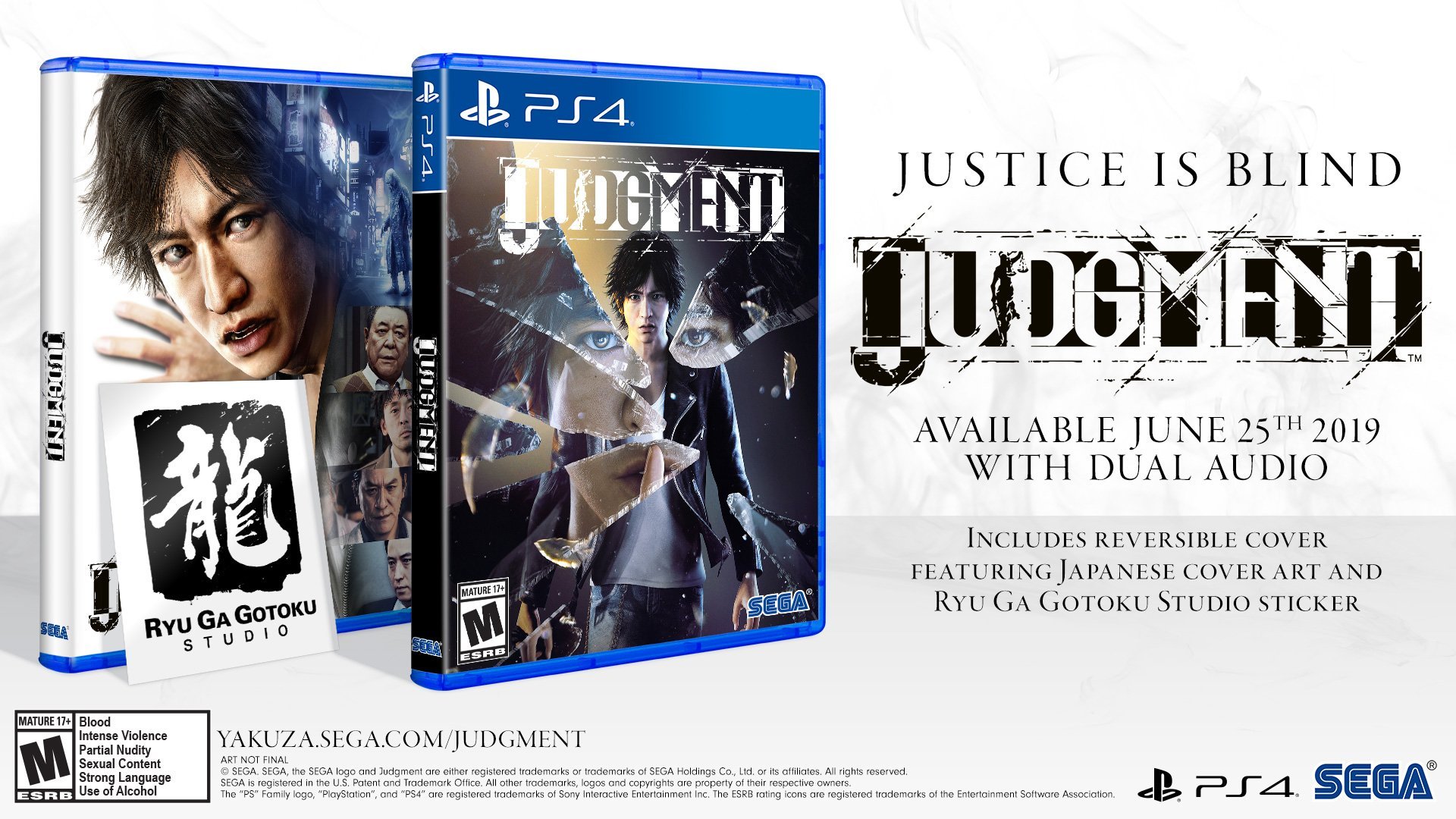 Buat kamu yang asing dengan game ini, Judge Eyes memiliki latar bahkan mekanisme permainan yang menyerupai serial game Yakuza. Sehingga kamu yang menikmati game-game Yakuza sebelumnya, pastinya akan sangat familiar dengan game satu ini.
Berikut fitur-fitur utama permainan yang diambil dari halaman Niche Gamer.
---
From the Makers of the Acclaimed Yakuza Series: Ryu Ga Gotoku Studios presents Judgment, the dramatic tale of a disgraced lawyer seeking redemption in a world rife with corruption and despair.
Investigate the Seedy Red Light District of Kamurocho: Step into the mind of private detective Takayuki Yagami and utilize innovative investigation systems to uncover the secrets that lie deep within Kamurocho's corrupt underbelly.
Experience Visceral Combat with Two Unique Combat Styles: Take down groups of thugs with sweeping blows in Crane Style, then switch to Tiger to overwhelm a single foe with a series of powerful strikes. Practice mixing-and-matching styles in combat in conjunction with a wide variety of skills, weapons, and powerful (and hilarious) EX Actions to unlock a whole new dimension in combat.
Dual Audio: Players can switch between the Japanese and English voice-over tracks at any point during the game. Experience Judgment using whichever language you prefer.
Dual Subtitles: Subtitles change based on which audio track is selected – Japanese or English. Japanese voice subtitles are presented in a way that represents the traditional Yakuza experience while English voice subtitles match the English script.
Localization Pedigree: Dual Audio: Judgment's localization has been handled in-house by Sega of America's talented Yakuza series localization team.
---
---
Judgment rencananya akan dirilis pada 25 Juni 2019 mendatang untuk platform PS4. Baca juga informasi menarik atau artikel keren lainnya dari Andy Julianto.