Square Enix Online Store mengumumkan bahwa, salah satu game JRPG buatan tri-Ace Star Ocean V: Intergrity and Faithlessness akan diluncurkan 28 Juni 2016 untuk versi inggris PS4. Tidak hanya itu saja, mereka juga menjelaskan bahwa "Day One Edition" dari game ini juga datang dengan berbagai bonus downloadable content seperti:
Kami sekarang telah resmi hadir di platform Tiktok! Follow akun Tiktok kami di @gamebrott.com untuk menjumpai berbagai informasi serta konten-konten video menarik kami lainnya.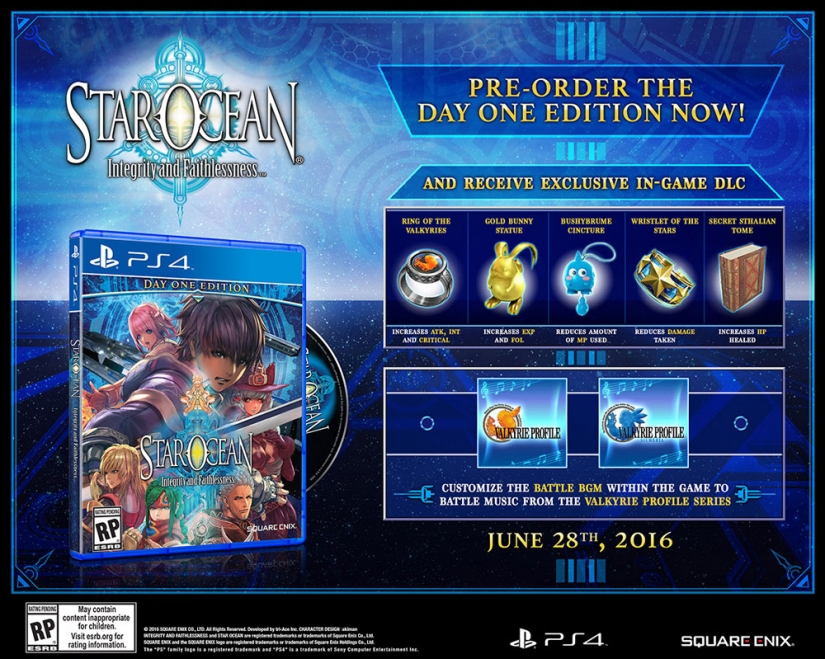 Ring of the Valkyries – ATK, INT, CRIT UP
Gold Bunny Statue – EXP & FOL UP
Bushybrume Cincture – Reduce MP Use
Wristlet of the Stars – Reduce damage taken
Secret Stahlian Tome – Increases HP healed
Valkyrie Profile & Valkyrie Profile: Silmeria BGM – Mengganti battle BGM dengan battle music Valkyrie Profile
Game ini juga akan menyajikan dubbing Jepang bagi kamu yang tidak begitu menyukai dubbing English.
Star Ocean V: Integrity and Faithlessness akan dirilis hanya untuk PS3 dan PS4.
Source: Square Enix Online Store